Three people have been struck by a vehicle following a police pursuit in Uxbridge. The pursuit was briefly authorised by senior officers before being called off on public safety concerns (please note the black vehicle pictured was not directly involved).
Officers say nobody has been seriously injured in the incident.
Multiple police vehicles where visible at the scene outside the Uxbridge police station. The London ambulance service also attended along with a vehicle from the London's air ambulance.
In a statement police said: "At 20:09hrs on Tuesday, 26 November, a Mercedes saloon failed to stop for police at Harefield Road, Uxbridge.
Officers conducted an authorised pursuit which was terminated after a short distance due to the unsafe manner of the suspect's driving.
At Oxford Road Roundabout the suspect vehicle was in collision with a male pedestrian.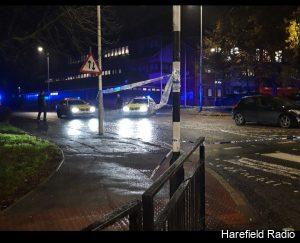 The male suffered an arm injury. He was taken to a west London hospital where his condition is not life threatening.
The suspect vehicle continued to Grainges Yard Car Park where it was in collision with another vehicle. Following the collision the suspect fled on foot leaving the Mercedes at the scene.
Two further members of the public were injured in the Grainges Yard collision. Their injuries were minor.
Enquiries continue."
The Met's Directorate of Professionals Standards has been informed.
Did you see the incident or have pictures? Get in touch via: news@harefieldradio.org.uk