Hire us for you next party or event
Harefield Radio provides various services to the community including our Outside Broadcast/DJ hire. We provide a full public address service for fates, community events and party's. We offer these services at highly competitive rates and are proud that every penny goes straight back to the charity.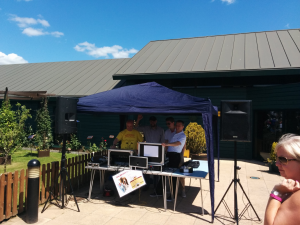 For public events such as fates, we play music, make announcements, conduct interviews when required etc and make your event even better! Plus, we take our wireless microphones along to each stall to promote them and encourage people to spend a little more money. We also act as a central point for missing children and lost property. You can see us in action each year at the Harefield Fun Run.
All of our equipment is fully insured and PAT tested. In addition, our team all hold up-to-date DBS criminal record checks.
We are available throughout the year, so, why not let us make your special day even better! For more information contact us.