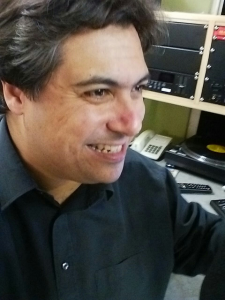 I started with Harefield Radio when I was just 15 years old! Back then, we were using mainly vinyl and reel-to-reel with the addition of a shiny new computer donated to us by the BBC. Little did we know as time went on the grams and tape decks would disappear and computers would take over. In fact, it's thanks to computers that we are able now to be on air 24/7. Technology has really helped us!
Volunteering here gave me great training and a great kickstart to working in the radio industry. Thanks to my training here at Harefield, I have since been able to work in the radio industry for over 20 years now, working as a researcher, producer, voice-over artist and presenter. I have been station voice on many radio stations, both here in the UK as well as the USA and other European countries and have hosted shows which have been syndicated on radio stations all over the world! My voice has been used by companies such as the Sony Corporation, Kellogg's and LG just to mention a few, and it was all thanks to the start I got at Harefield Radio.
I am very happy to now be both programme controller and news editor. As programme controller, I look after all output on our radio station. As news editor, I oversee our new news team who provide the village with it's first ever dedicated news service.
Adam Lewis
Trustee / Charity Secretary
Programme Controller/News Editor